Playa Resorts: Spring Reset Sale - Save up to 70%
Book your next dream Playa Resort Caribbean vacation. Last minute Playa Resort holidays.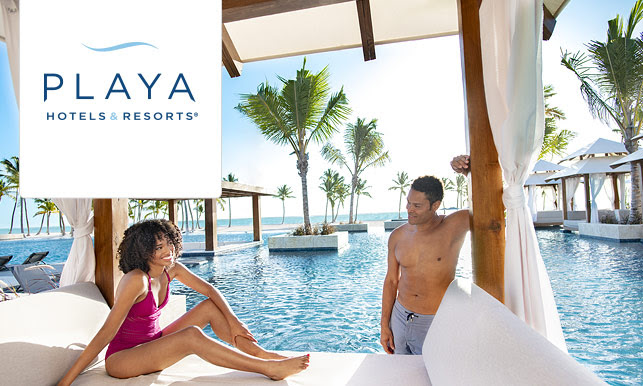 Spring Reset Sale with Playa Resorts
SAVE up to 70% PLUS receive up to $300 in resort perks and spa discounts
Experience all-inclusive luxury with a distinctly local flavor at Playa Hotels & Resorts in Mexico and the Caribbean. Whether your vacation dreams include a romantic escape, a lively getaway with friends or endless family fun, Hyatt Ziva, Hyatt Zilara, Sanctuary, Hilton, Jewel and Panama Jack resorts offer you picture-perfect beachfront settings, varied dining options, exciting activities, thoughtful amenities and exceptional service – all included in the price of your vacation.
Vacations Include: Round-trip airfare, hotel accommodations, taxes and more
PLUS FREE Onsite COVID-19 Testing
Featured Offer
Hyatt Zilara Rose Hall, Jamaica
All-Inclusive | Adults Only | Up to 56% OFF room rates | $100 OFF per booking
Caribbean
Jewel Paradise Cove Adult Beach Resort & Spa, All-Inclusive, Jamaica
Discover a secluded adults-only tropical paradise. Enjoy an array of signature Jewel Resorts amenities and world class services, including Jamaica's only oceanfront, two-story spa.
All-Inclusive
Adults Only
Up to 68% OFF room rates
$100 OFF per booking
Hyatt Ziva Cap Cana, Dominican Republic
Ideally located in Cap Cana near must-see attractions, this new family-friendly resort is the first Hyatt Ziva in the Dominican Republic and offers exceptional amenities.
All-Inclusive
Up to 49% off room rates
Sanctuary Cap Cana, Dominican Republic
This adults-only all-inclusive resort features 6 pools, a state-of-the-art spa and fitness center, a multitude of restaurants and bars, a nightclub and more situated on a private white-sand beach.
All-Inclusive
Adults Only
Up to 64% OFF room rates
$200 in resort perks
Hilton La Romana, an All-Inclusive Family Resort, Dominican Republic
Located on the southeast coast of the Dominican Republic, this all-inclusive resort is set between pristine beaches and lush tropical jungle.
All-Inclusive
Up to 57% off room rates
$200 in resort perks
Mexico
Hilton Playa del Carmen
This luxurious adults-only resort features a magnificent beachfront location and an atmosphere of casual elegance.
Up to 71% OFF room rates
Up to $300 in resort perks
Hyatt Zilara Cancun
Conveniently located in the heart of the hotel Zone, this adults only oceanfront resort offers a new dimension in the luxury all-inclusive experience.
Up to 68% OFF room rates
Up to $200 in resort perks
Hyatt Ziva Los Cabos
A luxurious all-inclusive beachfront resort for all ages features magnificent suites with ocean views, four pools, five specialty restaurants, Zen Spa and entertainment.
Up to 68% OFF room rates
Up to $200 in resort perks
Panama Jack Resorts Cancun - All Inclusive
This all-inclusive oceanfront resort features luxe accommodations, unlimited dining and drinks, 24-hour room service, Aura spa, two swimming pools and more.
Up to 71% OFF room rates
Up to $200 in resort perks
Hyatt Ziva Puerto Vallarta
This lush tropical paradise lies secluded on its own 1,600-foot private beach cove and affords spectacular views.
Up to 68% OFF room rates
Up to 20% OFF select spa treatments
Reservations Call JustTravelDeals @ 905-799-3000 or info@justtraveldeals.ca
1361615
Terms, conditions and restrictions apply; pricing, availability, and other details subject to change and/ or apply to US or Canadian residents. Please confirm details and booking information with your travel advisor.
You will visit the following 9 places:
Jamaica
Punta Cana
Punta Cana is part of the newly created Punta Cana-Bávaro-Veron-Macao municipal district in La Altagracia, the easternmost province of the Dominican Republic. The area is best known for its beaches and balnearios, which face both the Caribbean and Atlantic, and it has been a popular tourist destination since the 1970s. The Punta Cana area has an estimated population of 100,000 with a growth rate of 6%. To the north, it borders the village and beach of Cabeza de Toro, and then the Bávaro and El Cortecito beaches. The nearest city, the 500-year-old capital of the Province Higüey, is 45 kilometres (28 mi) away, and it takes about an hour to drive there. Europeans, particularly Spanish hotel chains, own all but two of the 50+ megaresorts of the Punta Cana tourism destination.
Santo Domingo
Santo Domingo, known officially as Santo Domingo de Guzmán, is the capital and largest city in the Dominican Republic. Its metropolitan population was 2,084,852 in 2003, and estimated at 2,253,437 in 2006. The city is located on the Caribbean Sea, at the mouth of the Ozama River. Founded by Bartholomew Columbus in 1496, it is the oldest continuously inhabited European settlement in the Americas, and was the first seat of Spanish colonial rule in the New World. It lies within the boundaries of the Distrito Nacional (D.N.; "National District"), itself bordered on three sides by Santo Domingo Province.
Playa del Carmen
Playa del Carmen is a coastal resort town in Mexico, along the Yucatán Peninsula's Riviera Maya strip of Caribbean shoreline. It is a popular tourist area in eastern Mexico. Playa del Carmen boasts a wide array of tourist activities due to its geographical location in the Riviera Maya. It has also been the destination of PGA Tour golf tournaments and the set location for various television shows. Playa is a stop for several cruise ships which dock at the nearby Calica quarry docks, about six miles south of the city. The Xcaret Eco Park, a Mexican-themed "eco-archaeological park", is a popular tourist destination located just south of the town in Xcaret (pronounced "shkar-et").
Montego Bay
Montego Bay is the capital of St. James Parish and the second largest city in Jamaica by area and the third by population (after Kingston and Spanish Town). It is a tourist destination with duty free shopping, cruise line terminal and the beaches. The city is backed by picturesque low mountains. Popular beaches include Doctor's Cave Beach and Walter Fletcher Beach, home to an amusement park. Today, Montego Bay is known for its large regional hospital (Cornwall Regional Hospital), port facilities, second homes for numerous upper class Jamaicans from Kingston as well as North Americans and Europeans, fine restaurants, and shopping opportunities. The coastland near Montego Bay is occupied by numerous tourist resorts, most newly built, some occupying the grounds of old sugarcane plantations with some of the original buildings and mill-works still standing. The most famous is the White Witch's Rose Hall which now features a world-class golf course.
Los Cabos International Airport
Cancún
Puerto Vallarta
Puerto Vallarta is a Mexican beach resort city situated on the Pacific Ocean's Bahía de Banderas. The 2010 census reported Puerto Vallarta's population as 255,725 making it the fifth largest city in the state of Jalisco, and the second largest urban agglomeration in the state after the Guadalajara Metropolitan Area. The City of Puerto Vallarta is the government seat of the Municipality of Puerto Vallarta which comprises the city as well as population centers outside of the city extending from Boca de Tomatlán to the Nayarit border (the Ameca River). Around the Bay, marvellous beaches, lush jungles and sparkling waterfalls offer many opportunities for the adventurous while five star resorts, world-class shopping and gourmet restaurants satisfy even the most sophisticated traveller. Stretching from the south end of Old Town to central downtown, a newly extended and refurbished boardwalk along the ocean, called the Malecon, passes by any number of shops, restaurants, and hotels, and often plays host to mimes, break-dancers, clowns and artists.
La Romana
La Romana is the seventh-largest city in the Dominican Republic. The city is a hub for a growing tourist industry with several nearby local resort spots, such as the beachfront Bayahibe, Dominicus, Casa de Campo, and the growing number of golf resorts that surround the area.