Book your next dream cruise sailing MSC Seashore. MSC last minute cruise deals.
MSC Cruises has unveiled new details about its highly anticipated MSC Seashore, scheduled to come into service this August in the Mediterranean.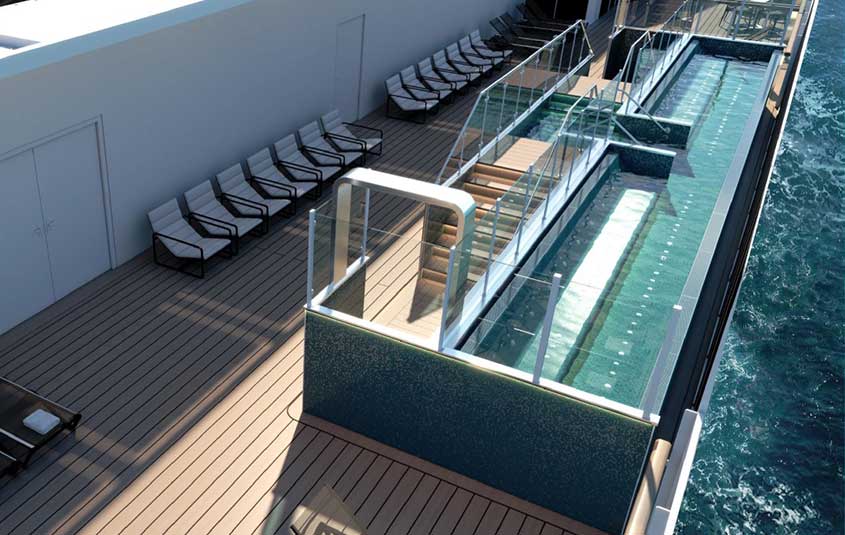 INFINTY WHIRLPOOL DECK 8
"With each new ship we build, MSC Cruises continues to innovate and push design boundaries," he said. "Sixty-five percent of the public areas have been reimagined to create something truly unique for our guests."
At 339 metres, the new flagship will become the longest ship in MSC's fleet and will be the largest ship ever to be built in Italy by Fincantieri. There will be 11 different types of cabins and suites with balconies, including the coveted aft suites, 50 terraced suites with extended balconies, offering up to 15 square metres of private terrace, and 32 different suites with outdoor private whirlpools.
After entering service in August 2021, MSC Seashore will spend an inaugural season in the Mediterranean calling at the Italian ports of Genoa, Naples and Messina as well as Valletta in Malta, Barcelona in Spain and Marseille in France. It will then head to the U.S. where it will home port in Miami.
Starting November 2021, MSC Seashore will sail seven-night Eastern and Western Caribbean and Bahamas itineraries, including stops at Ocean Cay MSC Marine Reserve, MSC Cruises' new private island in The Bahamas.
Here are some other key highlights of MSC's newest flagship:
OUTDOOR AMENITIES
There will be a total of 13,000 square metres of outdoor space with a wide choice of outdoor bars and dining and a deck area for sunbathing
Six swimming pools with enlarged poolside areas including a new infinity pool, two new infinity whirlpools and the Long Island Pool, which offers two different depths and is connected to the aquapark
A 360-degree water fountain island on Deck 18 as well as a new lounge space within the pool
The Jungle Pool features a larger magrodome that can be closed to create an indoor pool area when needed; this area has also been enlarged and now includes an additional deck that's located nearby a new buffet on Deck 16
An expansive 540-metre-long waterfront promenade ideal for al fresco dining
DINING & DRINKING
Chef's Court, comprised of five specialty restaurants, will be moved to Deck 8, allowing for better views of the sea as well as first-time outdoor seating at Butcher's Cut steakhouse
MSC Seashore's buffet now includes a new outdoor aft dining area and Sky Bar, allowing guests to enjoy their food outdoors
Aurea guests can enjoy the exclusive Top 19 Solarium featuring a chic outdoor lounge area and bar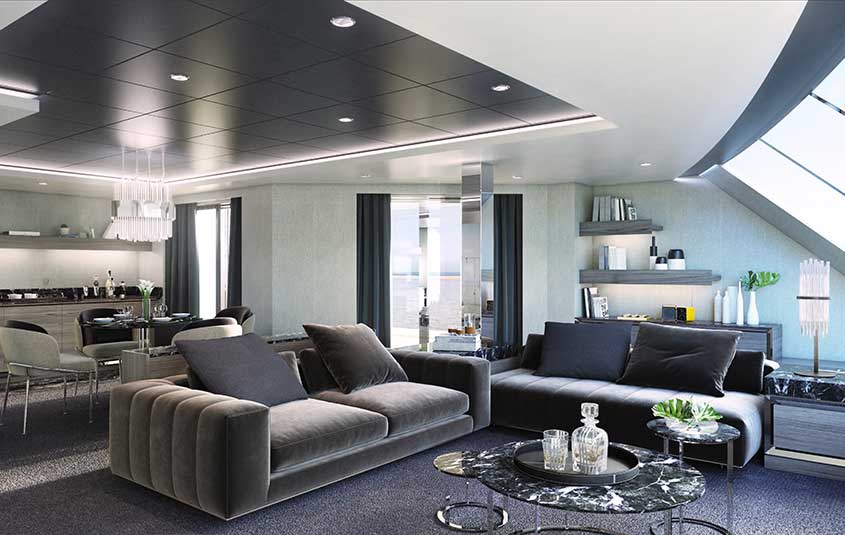 NEW OWNER'S SUITES YACHT CLUB
MSC YACHT CLUB
The largest and most luxurious MSC Yacht Club spanning 3,000 square metres over four decks with two palatial new Owners Suites
Newly redesigned concierge area featuring a three-deck, 46 square-metre back-lit Onyx wall and MSC's signature Swarovski staircases
An enhanced and extended pool area and sundeck offering 2,000 square metres of space and featuring a larger pool and new panoramic whirlpool with eight seats and individual jets
Deluxe accommodations have been increased, now featuring 131 glamourous suites across five categories, including the traditional interior, deluxe and royal suites as well as 41 new deluxe grand suites with extra space and a walk-in closet, and two brand new Owner's Suites
Reservations Call JustTravelDeals @ 905-799-3000 or info@justtraveldeals.ca
Terms, conditions and restrictions apply; pricing, availability, and other details subject to change and/ or apply to US or Canadian residents. Please confirm details and booking information with your travel advisor.
You will visit the following 6 places:
Valletta
Valletta is the capital of Malta, colloquially known as Il-Belt in Maltese. It is located in the central-eastern portion of the island of Malta and the city proper has a population of 6,098. According to Eurostat, the larger urban zone of Valletta has a population of 368,250. Valletta contains buildings from the 16th century onwards, built during the rule of the Order of St. John of Jerusalem, also known as Knights Hospitaller. The city is essentially Baroque in character, with elements of Mannerist, Neo-Classical and Modern architecture in selected areas, though World War II left major scars on the city. The City of Valletta was officially recognised as a World Heritage Site by UNESCO in 1980. The city is named for Jean Parisot de la Valette, who succeeded in defending the island from an Ottoman invasion in 1565. $$http://www.youtube.com/watch?v=AGlRHAOUQvk$$
Messina, Italy
Messina is a harbor city in northeast Sicily, Italy. It is the capital of the Italian Metropolitan City of Messina, and has close ties with Reggio Calabria. The city's main resources are its seaports (commercial and military shipyards), cruise tourism, commerce, and agriculture (wine production and cultivating lemons, oranges, mandarin oranges, and olives). The city has been a Roman Catholic Archdiocese and Archimandrite seat since 1548 and is home to a locally important international fair. The city has the University of Messina, founded in 1548 by Ignatius of Loyola. Messina has a light rail system, Tranvia di Messina, that was opened on 3 April 2003. This line is 7.7 kilometres (4.8 mi) and links the city's central railway station with the city centre and harbour. The city is home to a significant Greek-speaking minority, rooted in its history and officially recognised.
The Bahamas
The name "Bahamas" comes from the Spanish baja mar meaning shallow sea, and is one of the most geographically complicated nations of the Atlantic. It's a coral-based archipelago comprising more than 700 islands. The Bahamas has a rich history and colorful culture unlike anywhere else in the world. It's lovely capital, Nassau, is known for its beaches and coral reefs, destinations for diving and snorkeling. It retains many of its characteristic pastel-colored British colonial buildings.
Marseille
Marseille, known in antiquity as Massalia, is the second largest city in France, after Paris, with a population of 852,395 within its administrative limits on a land area of 240.62 km2. The urban area of Marseille extends beyond the city limits with a population of over 1,420,000 on an area of 1,204 km2. 1,530,000 or 1,601,095 people live in the Marseille metropolitan area. Located on the southeast coast of France on the Mediterranean Sea, Marseille is France's largest commercial port and largest French city on the Mediterranean coast. Marseille is the capital of the Provence-Alpes-Côte d'Azur region, as well as the capital of the Bouches-du-Rhône department. Its inhabitants are called Marseillais.
Barcelona
Barcelona – Spain's enchanting capital, second largest and most populous city. It is a huge city that vibrates with life, and there's certainly not another city in the country to touch it for its sheer style, looks or energy. It is one of the world's leading tourist, economic, trade fair and cultural centers, and its influence in commerce, education, entertainment, media, fashion, science, and the arts all contribute to its status as one of the world's major global cities. Barcelona is home to masterpieces of many great architects – the most famous of which is Antoni Gaudí.
Miami