Top Villas in Santorini Greece
Book your next dream luxury Santorini Greece villa vacations. Last minute Santorini Greece villa holidays.



OUR MOST EXCLUSIVE VILLAS

IN SANTORINI



What sets our most popular villas apart? It's the exclusive extras that make all the difference.
Our guests delight in spectacular amenities like private infinity pools, breathtaking views, our full concierge services, and an up-close-and-personal encounter with some of the most beautiful locations around Santorini.
Discover for yourself what sets our top-rated villas apart, and see why you should make your villa dreams a reality.

Call us now to book your luxury villa experience!
More Information call 905-799-3000
Villa Aglea, Breathtaking View of the Volcano


2 bedrooms / 2 bathrooms / Private pool

Santorini Villa Aglea is a modern, luxurious villa, in an area of 1000 sq.m. The villa is built on levels around the old stone windmill (built 200 years ago) and with respect to the traditional architecture of the island.
More Information call 905-799-3000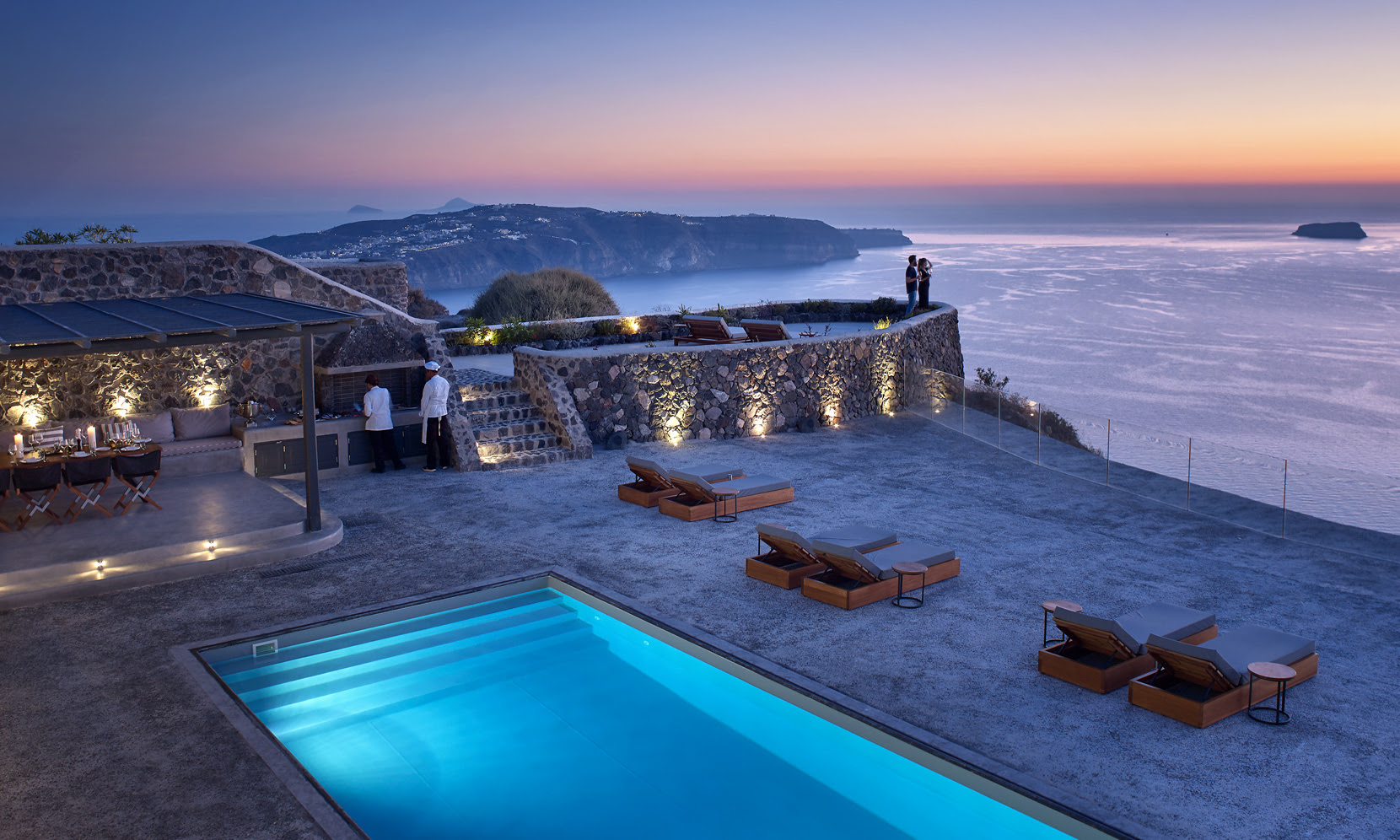 Villa Nirvana, A wonderful architectural gem

5 bedrooms / 5 bathrooms / Infinity pool

Combining Cycladic architecture with modern design, Santorini Villa Nirvana is a wonderful architectural gem of minimal style in a quiet area of Santorini's Caldera, surrounded by nothing but the wild beauty of the island's nature.
More Information call 905-799-3000
Villa Erato Residence


2 bedrooms / 2 bathrooms / Jacuzzi
Santorini Erato Residence hosts two bedrooms with their own respective bathrooms. One of the two bathrooms offers the unique sensation of showering while gazing at the sea, the volcano and caldera. The decoration and style is detailed with the highest standards.
More Information 905-799-3000
Villa Triton


5 bedrooms / 9 bathrooms / Private Pool
Imposingly set in Akrotiri, Santorini Villa Triton, one of the best villas in Santorini, offers panoramic Caldera and Volcano Views and enticing sunsets.
The villa's aesthetics harmoniously combine the island's ancient history with refined luxury and contemporary comforts.
Reservations Call JustTravelDeals @ 905-799-3000 or info@justtraveldeals.ca
1463720
Terms, conditions and restrictions apply; pricing, availability, and other details subject to change and/ or apply to US or Canadian residents. Please confirm details and booking information with your travel advisor.
You will visit the following 2 places:
Santorini
Greece
Greece, also known since ancient times as Hellas, is a country located in southeastern Europe. The country has one of the longest histories of any country, and is considered the cradle of Western civilization, having been the birthplace of democracy, Western philosophy, the Olympic Games, Western literature, historiography, political science, major scientific and mathematical principles, and Western drama, including both tragedy and comedy. Athens, its busy capital, retains ancient landmarks including the 5th-century-B.C.E. Acropolis citadel and Parthenon temple. Greece is also known for its beaches, from the black sands of Santorini to the party resorts of Mykonos. Furthermore it's a geographically appealing place to visit, with a mountainous mainland and idyllic island beaches!