Book your next dream RIU Hotel San Francisco vacation. Last minute RIU Hotel San Francisco holidays.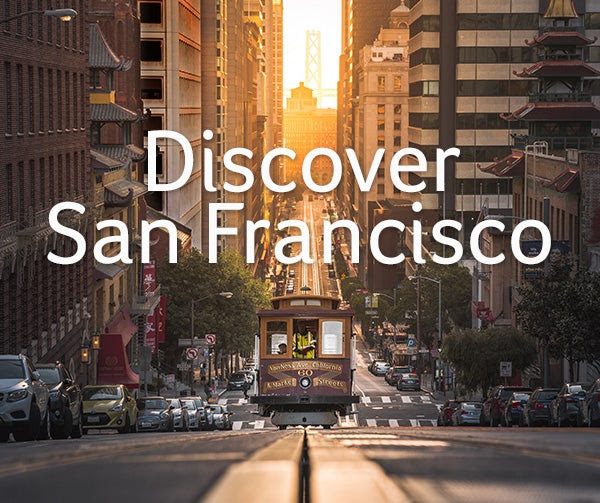 Hotel Riu Plaza Fisherman's Wharf
The Riu Plaza Fisherman's Wharf Hotel is located near Pier 39, one of the most famous areas of San Francisco, and offers you the best services so that you can enjoy an unforgettable stay. Amongst the facilities you have free WiFi, an outdoor swimming pool, a gym, conference rooms and a new restaurant to enjoy authentic American breakfasts. The 500+ rooms at this hotel in San Francisco are perfectly equipped to offer you maximum comfort. All of them have satellite TV, mini fridge, coffee machine and air conditioning, along with many other amenities.
The Riu Plaza Fisherman's Wharf Hotel has 3 meeting rooms perfectly equipped to make your events a success. If you are interested in hosting your events in the facilities of this hotel in San Francisco, our team of professionals will help you in the organisation of every detail.
Gastronomy

The cuisine at this hotel on Pier 39 will is truly excellent. In the restaurant / bar we offer American buffet breakfasts and à la carte lunches as well as dinners to suit all tastes and appetites. In addition, there is also a bar service throughout the day.
Discover the city

To make your stay in San Francisco unforgettable, at RIU Hotels & Resorts we suggest you visit the most emblematic places of the city. You cannot miss the Golden Gate Bridge, the famous Victorian Painted Ladies houses, climb the mythical hills riding the Cable Cab or visit the Alcatraz jail.
HIGHLIGHTS
Located in the Fisherman's Wharf neighborhood
500 m from the leisure area "Pier 39
Three-storey building
Wifi throughout the hotel
3.5 km to Downtown San Francisco
Conference and meeting rooms
Pool and sun terrace
All public areas are wheelchair accessible with ramps or elevators
For more information contact 905-799-3000
ARUBA · BAHAMAS · BULGARIA · CAPE VERDE · COSTA RICA · DOMINICAN REPUBLIC · GERMANY IRELAND · JAMAICA · MALDIVES · MAURITIUS · MEXICO · MOROCCO · PANAMA · PORTUGAL SPAIN · SRI LANKA · TANZANIA · UAE · USA
Reservations Call JustTravelDeals @ 905-799-3000 or info@justtraveldeals.ca
Terms, conditions and restrictions apply; pricing, availability, and other details subject to change and/ or apply to US or Canadian residents. Please confirm details and booking information with your travel advisor.
You will visit the following 21 places:
Tanzania
Tanzania, officially the United Republic of Tanzania, is a large country in Eastern Africa within the African Great Lakes region. Parts of the country are in Southern Africa. Kilimanjaro, Africa's highest mountain, is in northeastern Tanzania. Tanzania is diverse, composed of several ethnic, linguistic, and religious groups. Tanzania is a presidential constitutional republic, and since 1996, its official capital city has been Dodoma, where the President's Office, theNational Assembly, and some government ministries are located. Dar es Salaam, the former capital, retains most government offices and is the country's largest city, principal port, and leading commercial centre.
Maldives
Encompassing a territory spread over roughly 90,000 square kilometres (35,000 sq mi), the Maldives is one of the world's most geographically dispersed countries. It is a tropical nation known for its beaches, blue lagoons and extensive reefs. It is the smallest Asian country in both land area and population. The archipelago is located atop the Chagos-Maldives-Laccadive Ridge, a vast submarine mountain range in the Indian Ocean, which also forms a terrestrial ecoregion together with the Chagos and the Lakshadweep. With an average ground level elevation of 1.5 metres (4 ft 11 in) above sea level, it is the planet's lowest country.
Spain
Spain – one of Europe's most top travel destinations for its fantastic beaches, islands, UNESCO World Heritage sites, stunning and diverse countryside, buzzing nightlife, delicious cuisine and world-famous fiestas! The country is a friendly, multicultural society dedicated to building curious minds, positive attitudes and creative spirits. With great beaches, fun nightlife, many cultural regions and historic cities, Spain makes a great destination for any kind of trip.
Morocco
Morocco, officially known as the Kingdom of Morocco, is a sovereign country located in the Maghreb region of North Africa. Geographically, Morocco is characterized by a rugged mountainous interior and large portions of desert. It has Atlantic and Mediterranean coastlines. Ethnically speaking, Morocco is composed mainly of Arabs and Berbers or a mixture of the two. Sizeable numbers of Berbers live mainly in the country's mountainous regions, long areas of refuge where they have preserved their language and culture. Some segments of the population are descendants of refugees from Spain and Portugal who fled from the Reconquista, the Christian reconquest of the Iberian Peninsula, that spanned until the 15th century.
Mexico
Mexico is a land of extremes, with high mountains and deep canyons in the center of the country, sweeping deserts in the north, and dense rain forests in the south and east. It is located between the U.S and Central America. Ancient ruins such as Teotihuacan (Aztec) and Chichen Itza (Mayan) are scattered throughout the country, as are Spanish colonial-era towns. In capital Mexico City, upscale shops, renowned museums and gourmet restaurants cater to modern life.
Portugal
Portugal is a southern European country on the Iberian Peninsula, bordering Spain and the Atlantic Ocean. It has a rich, unique culture, lively cities and beautiful countryside. Its rolling interior is perfect for exploring on foot, by kayak, by bike or even on horseback – though a large part of the country's charm comes from languorous days on the beach, dining on fabulously fresh seafood and kicking back with a beer to watch the sunset over the Atlantic. It is also a developed country with an advanced economy, a high living standard, being also the 11th most peaceful country in the world.
San Francisco
San Francisco, officially the City and County of San Francisco, is the financial, cultural, and transportation center of the San Francisco Bay Area, a region of 7.5 million people which includes San Jose and Oakland. The only consolidated city-county in California, it encompasses a land area of about 46.9 square miles (121 km2) on the northern end of the San Francisco Peninsula, giving it a density of about 17,179 people per square mile (6,632 people per km2). It is the most densely settled large city (population greater than 200,000) in the state of California and the second-most densely populated large city in the United States after New York City. San Francisco is the fourth most populous city in California and the 13th most populous city in the United States, with a population of 805,235 as of the 2010 Census. The San Francisco-Oakland-Fremont metropolitan area has a population of 4,335,391.
The Bahamas
The name "Bahamas" comes from the Spanish baja mar meaning shallow sea, and is one of the most geographically complicated nations of the Atlantic. It's a coral-based archipelago comprising more than 700 islands. The Bahamas has a rich history and colorful culture unlike anywhere else in the world. It's lovely capital, Nassau, is known for its beaches and coral reefs, destinations for diving and snorkeling. It retains many of its characteristic pastel-colored British colonial buildings.
Germany
Misunderstood by many, Germany is one of the most unique and charming countries on the continent. Since reunification Germany has at last gained a higher profile as a place to visit, thanks partly to the remarkable resurgence of its capital, Berlin, one of the most fascinating and exciting cities in Europe. It's no surprise at all that today's Germany is more diverse and cosmopolitan than old stereotypes suggest; mixing time-honoured nationalism and tradition with multicultural modernism and self-confidence.
Aruba
Aruba is a Caribbean island 15 miles north of the coast of Venezuela, and is one of the four "countries" that together form the Kingdom of the Netherlands. Unlike much of the Caribbean region, Aruba has a dry climate and an arid, cactus-strewn landscape. This climate has helped tourism as visitors to the island can reliably expect warm, sunny weather. This beautiful island offers many activities and attractions for people of all ages.
Sri Lanka
Sri Lanka, known from the beginning of British colonial rule until 1972 as Ceylon, is an island country in South Asia near south-east India. Its geographic location and deep harbours made it of great strategic importance from the time of the ancient Silk Road through to World War II. A diverse and multicultural country with a long fascinating history, Sri Lanka is home to many religions, ethnic groups, and languages. In addition to the majority Sinhalese, it is home to large groups of Sri Lankan and Indian Tamils, Moors, Burhgers, Malays, Kaffirs and the aboriginal Vedda. The country has a rich Buddhist heritage, and the first known Buddhist writings of Sri Lanka, the Pāli Canon, dates back to the Fourth Buddhist council in 29 BC.
Mauritius
Mauritius, officially the Republic of Mauritius, an Indian Ocean island nation, is known for its beaches, lagoons and reefs. The capital and largest city is Port Louis. The island of Mauritius was visited during the Middle Ages by the Arabs and then by the Portuguese, who named it Dina Arobiand Cirne, respectively. The island was uninhabited until the Dutch Republic established a colony in 1638, with the Dutch naming the island after Prince Maurice van Nassau. The Dutch colony was abandoned in 1710, and, five years later, the island became a French colony and was named Isle de France. Due to its strategic position, Mauritius was known as the "star and key" of the Indian Ocean. The people of Mauritius are multiethnic, multi-religious, multicultural and multilingual. Along with the other Mascarene Islands, Mauritius is known for its varied flora and fauna, with many species endemic to the island. The island is widely known as the only known home of the dodo, which, along with several other avian species, was made extinct by human activities relatively shortly after the island's settlement. Mauritius is the only country in Africa where Hinduism is the largest religion.
Ireland
Ireland is an island in north-western Europe which has been divided politically since 1920. Most of the island is made up of Ireland (the Republic of Ireland). The remainder is Northern Ireland, which is part of the United Kingdom. An uncommon geological richness and the warming effect of the Atlantic produce an astonishing diversity of terrain on this lovely island, which is splashed throughout with lakes and primeval bogland. Ireland also adds further interest to the landscape through the sacred associations of so many of its physical features.
Costa Rica
Costa Rica is a small, rugged, rainforested Central American country with coastlines on the Caribbean and Pacific. Since the late 1980's Costa Rica became a popular nature travel destination, and its main competitive advantage is its well-established system of national parks and protected areas and home to a rich variety of flora and fauna. Costa Rica is also known for its beaches, volcanoes, immense biodiversity and progressive environmental policies, being the only country to meet all five criteria established to measure environmental sustainability.
Cape Verde
Cape Verde, or Cabo Verde, is a island nation on a volcanic archipelago off the northwest coast of Africa. It is famous for its music, rich literature and wave sailing (a type of windsurfing) and kiteboarding. Its many beaches are also jumping-off points for windsports and diving among shipwrecks.
Dominican Republic
The Dominican Republic is a sovereign state on the island of Hispaniola, in the Greater Antilles archipelago in the Caribbean Caribbean region. Though known for its wonderful beaches, all-inclusive resorts and golfing, it has a varied terrain comprising rainforest, savannah and highlands, including Pico Duarte, the Caribbean's tallest mountain. For the adventure tourist this Caribbean country offers a diverse countryside comprising tropical rainforests, arid desert expanses, alpine ranges and steamy mangrove swamps. It's a playground for trekkers, mountain bike enthusiasts and water-sport junkies!
Jamaica
South America
South America is a breath-taking continent which is often referred to as the New World. It hosts some of the world's most beautiful beaches, coastal areas, mountain terrains to explore and is also the home of the Amazon Rain forest, home of over 10 million animal species. The diversity is also evident in the continent long history and also amongst its people.
Bulgaria
Panama City
Uaè