Moonstar Riviera Maya/Tulum from $899 /night
About Tulum Naval Air Station, Mexico
Book your next dream vacation staying at the Moonstar Riviera Maya Tulum Mexico. They say "Always aim for the Moon, because even if you miss, you'll land among the stars." If you are looking for the best family vacation, then it makes sense to aim high and choose Villa Moonstar.
Moonstar
Riviera Maya/Tulum

from $899 /night
Perched on the primary dune in the central part of Soliman Bay, this amazing four-bedroom beachfront villa is a dream vacation home for anyone who appreciates the beauty of Caribbean, privacy and 5-star comfort.
Staying true to its name, Villa Moonstar boasts softly curved lines, an elegant décor and a relaxing ambiance. A large-open floor space is divided between a cozy living area, a formal dining room and a welcoming fully-equipped kitchen. It's very easy to feel yourself at home here, laughing and chatting with your family members over a savory home-cooked meal, making plans for the next day or just savoring the views of the pool area and the beach.
Large glass sliders open up from the living and dining area to refreshing sea breezes and invite you to spend some time outdoors.
Especially since the large, shady pool patio seems as if it has been designed around the concepts of utter enjoyment and relaxation. An outdoor dining area is perfect for enjoying your morning cup of coffee and greeting the sunrise. A built-in grill next to the pool inspires you to organize a cook-out party by the pool and drive the neighbors crazy with mouth-watering aromas of sizzling meat and honey-grilled shrimp.
While numerous sun lounges and a beach palapa give you an opportunity to relax with a bottle of chilled "cerveza" and admire the aqua-blue waters of Soliman Bay.
It's also a pleasant surprise to discover that all four of the villa's bedrooms feature the same stunning Caribbean views. The downstairs bedroom boasts an extra-large king-size bed and will appeal to those, who like the idea of having a full entertainment center, including plasma TV, all to themselves. The two second floor king-size bedrooms come with spacious en-suite bathrooms and private access to a large furnished ocean terrace.
An exterior stairway goes up to the beautiful palapa-topped rooftop Master Bedroom. This is probably the most romantic room, featuring a private furnished deck and elevated views of the Caribbean on one side and lush tropical Jungle on the other.
Looking out on the turquoise reef of Soliman Bay and light blue sea beyond will make you wish you lived here year-round and faced only with decisions like "should I snorkel out to the reef, kayak or just lie around by the pool?"
---
Features
5 Bedrooms, 5 Bathrooms
Sleeps 10 Guests
Beachfront
Waterfront
Pool
Air Conditioning
Staffed Villa
Air Conditioning
Barbecue grill
Bay
Beach Chairs
Board games
CD Player
Ceiling fans
DVD library
Fully equipped kitchen
Kayaks
Loungers
Pool
Satellite TV
Snorkel equipment
Terrace
Wash/dryer*
Wireless internet
---
Details
Bedroom Details
Bedroom 1 (Ground Level): King size bed, en-suite bathroom, air conditioning, ceiling fan
Bedroom 2 (First Level): King size bed, en-suite bathroom, air conditioning, ceiling fan, balcony, ocean view
Bedroom 3 (First Level): King size bed, en-suite bathroom, air conditioning, ceiling fan, balcony, ocean view
Bedroom 4 (Second Level): King size bed, en-suite bathroom, air conditioning, ceiling fan, private terrace
Bedroom 5 (The Casita): Queen size bed, en-suite bathroom, air conditioning, ceiling fan
Beach Details
This is a beachfront property
Pool Details
Private swimming pool
Staff and Services
Cook - 3 meals per day (excluding Sundays - cost of food is additional)
Housekeeping - 6 days per week
Night security guard
Staff and Services (at additional cost)
Laundry service
Location Details
Cancun International Airport - 1.5 hour drive
Town (restaurants and shops) - 10 minute drive
Tennis Courts - 20 minute drive
Golf - 10 minute drive
Grocery Store - 10 minute drive
Tulum - 10 minute drive
Hospital - 45 minute drive
Church/Synogogue - 10 minute drive
Villa Notes
Please note that the Washer and Dryer come at an extra cost as they are operated by the staff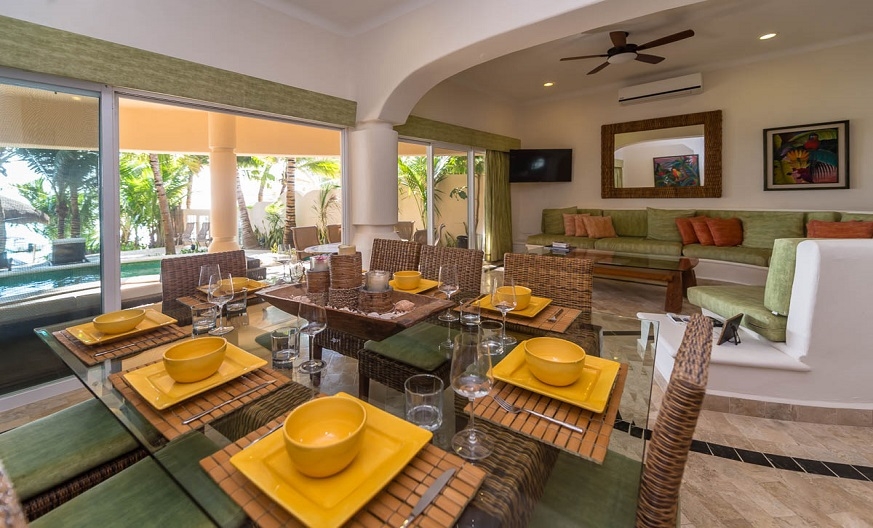 Reservations Call JustTravelDeals @ 905-799-3000 or info@justtraveldeals.ca
1059034
Terms, conditions and restrictions apply; pricing, availability, and other details subject to change and/ or apply to US or Canadian residents. Please confirm details and booking information with your travel advisor.