Jamaica Travel: Breathtaking Beaches, Stunning Hotels.
Book your next dream vacation to Jamaica. Last minute vacations, hotels, flights, car rentals and cruise holidays.
Heartbeat of the World
From its magnificent beaches to its world-class resorts, it's easy to see why travelers love Jamaica. Mix in the delicious cuisine and charismatic people and it's a wonder why someone would travel anywhere else.
Boston Bay
Located in Port Antonio, Boston Bay is only of the prettiest spots in Jamaica. This idyllic alcove offers visitors calming, crystal-clear Caribbean waters and some of the island's best jerked food offerings.
Hyatt Ziva and Hyatt Zilara Rose Hall
On one side you have the family-friendly Hyatt Ziva and on the other is the adults-only Hyatt Zilara Rose Hall. The two properties share a stunning 26 acres, tons of delicious dining options and nightly entertainment. And at only 15 minutes from the airport, travelers can be on the beach within an hour of landing.
Cliff Jumping in Negril
For those wanting an adrenaline rush, visitors can get their heart pumping by taking the plunge from about thirty-five feet up. For those who just want to watch, Rick's Café offers the perfect laid-back atmosphere and views.
Dickie's Best Kept Secret
If you're wanting to try some authentic Jamaican food, venture off the beaten path to Dickie's Best Kept Secret in Port Antonio. Not only will you get your fill of delicious cuisine, but you'll also be treated to some wild entertainment.
Dunn's River Falls
One of the top tourist destinations in Jamaica, Dunn's River Falls is a unique hiking adventure where you walk up a waterfall outside of Ochos Rios. It's a great way to cool off from the Jamaican heat.
"Hip Strip"
Located in Montego Bay, Gloucester Avenue has become nicknamed "Hip Strip" for all the popular bars, restaurants, shops and more in the area. Take a complimentary pedicab thanks to Jimmy Buffett's Margaritaville, watch planes land at Montego Bay airport just yards away, feast on local cuisine and enjoy nightly entertainment at one of the popular nightclubs.
GoldenEye Resort
This luxurious and secluded resort was once the residence of James Bond author, Ian Fleming. Offering beach and lagoon villas and plenty of culinary options, GoldenEye Resort is the perfect reprieve and may just give you that creative spark you need to write your next novel.
Goblin Hill Villas at San San
The Goblin Hill Villas sits atop a high bluff overlooking a stunning part of the Jamaican coast near Port Antonio. With twelve acres of gardens, white sand beaches and turquoise waters, you may not ever want to leave the resort.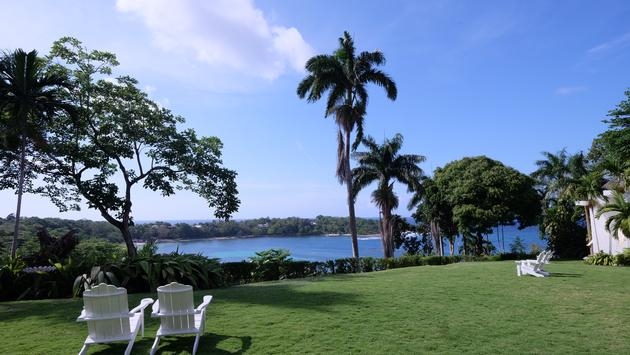 Half Moon Resort
Located near the airport in Montego Bay, Half Moon Resort has long been one of the most luxurious places to stay in Jamaica. With two miles of private beaches, a championship golf course and a world-class spa, Half Moon Resort is a destination in and of itself.
Jamaica Inn, Ocho Rios
Relax in one of Jamaica Inn's suites, cottages or beach bungalows located on one of the top-rated beaches in Jamaica. Enjoy sweeping views of the Caribbean Sea while eating at one of the resort restaurants or even partake in the afternoon tea service on the cocktail terrace.
The Jolly Boys
Don't be surprised to come across local musicians during your visit, and if you get the chance, make your way to Port Antonio to hear The Jolly Boys. This group was first created in 1945 and released their latest album in 2010.
Rafting the Rio Grande
Try a long rafting ride on Jamaica's Rio Grande River for a serene and beautiful nature experience. It's one of the longest rivers in Jamaica and located outside of Port Antonio.
Seven Mile Beach
Located outside of Negril, Seven Mile Beach is one of the most popular beaches across the island. With white sandy beaches and crystal clear waters, it's a great spot to go snorkeling or scuba diving. There are also glass bottom boats doing tours in the area, places to rent jet skis, the chance to ride a banana boat and even horseback riding.
Sandals Royal Caribbean
Known for its overwater bungalows, Sandals Royal Caribbean is an adults-only all-inclusive in Montego Bay. Reconnect with your significant other and relish in the serenity of this heavenly resort.
Sandals South Coast
Another model adults-only all-inclusive under the Sandals brand, Sandals South Coast also features overwater bungalows and brand new swim-up Rondoval butler suites.


Trident Hotel Port Antonio
Looking for a chic and opulent stay? The Trident Hotel outside of Port Antonio offers next-level luxury and has even been nicknamed the "Jamaican Riviera".
Zoetry Montego Bay
Situated only 20 minutes away from the airport, Zoetry Montego Bay gives guests 'Endless Privileges' like gourmet meals, butler services and superb ocean views. But unlike other all-inclusive resorts on the island, the Zoetry Montego Bay only has 49 suites which give guests more of a boutique hotel experience without all the noise that sometimes come at larger properties.
Reservations Call JustTravelDeals @ 905-799-3000 or info@justtraveldeals.ca
Terms, conditions and restrictions apply; pricing, availability, and other details subject to change and/ or apply to US or Canadian residents. Please confirm details and booking information with your travel advisor.
You will visit the following 5 places:
Montego Bay
Montego Bay is the capital of St. James Parish and the second largest city in Jamaica by area and the third by population (after Kingston and Spanish Town). It is a tourist destination with duty free shopping, cruise line terminal and the beaches. The city is backed by picturesque low mountains. Popular beaches include Doctor's Cave Beach and Walter Fletcher Beach, home to an amusement park. Today, Montego Bay is known for its large regional hospital (Cornwall Regional Hospital), port facilities, second homes for numerous upper class Jamaicans from Kingston as well as North Americans and Europeans, fine restaurants, and shopping opportunities. The coastland near Montego Bay is occupied by numerous tourist resorts, most newly built, some occupying the grounds of old sugarcane plantations with some of the original buildings and mill-works still standing. The most famous is the White Witch's Rose Hall which now features a world-class golf course.
Negril
Negril is a small but widely dispersed beach resort town located across parts of two Jamaican parishes of Westmoreland and Hanover. It is famous for its 7 miles of cool, white sand beaches and another 7 miles of 40' cliffs. One of the most beautiful towns in Jamaica, it has a more laid back atmosphere than that of Montego Bay and is more touristy than Ocho Rios. When you stay at a hotel on the beach you are literally on the beach when you walk out of the beachside of your hotel. You have probably never seen water this clear or warm. You will be amazed at how far out you can walk in the water before it gets up to your neck. The water is gentler and the sand is whiter(smaller grained aka softer) the farther down(away from town) you are. The end of the beach down by the all-inclusives is the whitest.
Ocho Rios
Ocho Rios (Spanish for "Eight Rivers") is a town in the parish of Saint Ann on the north coast of Jamaica. Just outside the city, travelers and residents can visit Columbus Park, where Columbus supposedly first came on land, and see maritime artifacts and Spanish colonial buildings. Ocho Rios was once a fishing village but it's now a resort with a cruise ship harbor and a busy bay beach that's lined with hotels. Scuba diving and other water sports are offered in the town's vicinity. The name "Ocho Rios" is a misnomer because there are not eight rivers in the area. It is most likely a British corruption of the original Spanish name "Las Chorreras" ("the waterfalls"), a name given to the village because of the nearby Dunn's River Falls - (a famous waterfall and a major Caribbean tourist attraction that receives thousands of visitors each year).
Port Antonio
Port Antonio is the capital of the parish of Portland on the northeastern coast of Jamaica, about 60 miles (100 km) from Kingston. It is the island's third largest port, famous as a shipping point for bananas and coconuts, as well as one of its most important tourist attractions, tourism being a major contributor to the town's economy.
Jamaica