Hotel Zi Teresa 3 star Sorrento, Italy
Book your dream vacation staying at the Hotel Zi Teresa Sorrento, Italy. Hotel Zi Teresa 4-star Sorrento hotel in Sorrento City Centre, walk to Corso Italia.
Hotel Zi Teresa 3 star Sorrento, Italy
Just a few steps from the centre of Sorrento with its undeniable charm (and equally great shopping!), the Hotel Zi' Teresa offers lovely and tastefully decorated rooms.
In a building set back from the street, this modest hotel in the city center is a 5-minute walk from Museum Correale, and 1 km from both Piazza Tasso and Cattedrale di Sorrento.


The colorful rooms have free Wi-Fi, satellite TV and minifridges. Upgraded rooms add balconies, some with views of the Gulf of Naples and Mt. Vesuvius.


Free breakfast is served in an airy restaurant, and there's a casual bar/lounge. The outdoor pool sits next to a garden with a terrace, and the rooftop solarium offers ocean views.
Area: Marina Piccola
Metro: Train Station Circumvesuviana - Sorrento
1 building of 5 floors
Elevator
WiFi ($): lobby
Individual air-conditioning
Parking ($)
2 restaurants
1 bar
1 pool
In-room safe
Hairdryer
Visit the Government of Canada travel website for advice and advisories and information regarding safety and security, entry and exit requirements, health and vaccination, climate and government assistance.
Room details
Included in all the rooms
Individual air-conditioning • Bathroom with shower or bath • Work Area • Hairdryer • Telephone • Crib (On Request - $) • Non-smoking • Voltage: 220/240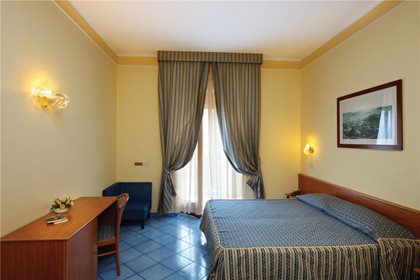 Room
Beds 1 double bed or 2 double beds
Occupancy Maximum 3 adults max.1 children max.

WiFi

In-Room Safe

Satellite TV

Room with Balcony

3 adults max.1 children max.
Package
One-city packages

These packages allow you to delve deep into your destination because you'll be staying at the same hotel or apartment for the entirety of your trip. Whether you wish to dive into the heart of a large bustling capital or enjoy the sweet life in a small coastal town, you'll find your happiness among our city or seaside stays.


Roundtrip flight in Economy Class (package only) arrival & departure - Rome Airport
Accommodation
Roundtrip transfers between airport and hotel (package only)
Cold buffet breakfast
Hotel taxes and service charges (except local taxes payable on site)
Package available
Popular attractions are close to Hotel Zi Teresa?
Nearby attractions include Banana Split Pub (0.03 km), I Giardini di Cataldo (0.3 km), and Correale di Terranova Museum (0.3 km).
Hotel Zi Teresa offers an airport shuttle for guests. We recommend calling ahead to confirm details.

Historical sites close to Hotel Zi Teresa.
Many travellers enjoy visiting Marina di Puolo (2.8 km), Palazzo Correale (0.9 km), and Piazza Andrea Veniero (1.2 km).
Hotel Zi Teresa
Vico III Rota, 3, Sorrento, 80067, Italy
Sorrento, Campania, Italy
Terms, conditions and restrictions apply; pricing, availability, and other details subject to change and/ or apply to US or Canadian residents. Please confirm details and booking information with your travel advisor.