Book your dream vacation staying at the 5 star luxury Divani Palace Acropolis hotel in Athens. Palace Acropolis is one of the best of Athens.
Divani Palace Acropolis Athens, Greece 5* Includes Breakfast
Divani Palace Acropolis enjoys a priceless location right by the world-famous Acropolis. Offering a variety of room types, guests are sure to have their needs met through modern comfort, 24‐hour room service, high‐speed Internet, and a variety of outdoor amenities. Claimed the soul of the hotel, the Divani's Spa & Thalasso Centre is a must visit for those seeking to be pampered!
Occupying a concrete building a 4-minute walk from the Acropolis, this refined hotel is a 6-minute walk from a metro station and 2 km from Athens' central Syntagma Square.


Plush rooms have balconies, minibars and marble bathrooms, along with flat-screen TVs and free Wi-Fi. Upgraded rooms add views of the Acropolis, and suites feature sitting areas, and/or additional balconies and bathrooms. Room service is available.


There's a free shuttle to local sites. Other amenities include a Mediterranean/international restaurant, a seasonal rooftop restaurant with Acropolis views, and an outdoor pool with a bar. Some pets are welcome (fee).
District: MAKRYGIANNI
Metro: Acropolis
Close to an attraction/town/historical site
1 building
Elevator
Central air-conditioning
2 restaurants
1 bar
In-room safe
Hairdryer
Room details
Included in all the rooms
Room dimensions: 25 m² • Balcony • Central air-conditioning • Full bathroom • Room Service ($) • Work Area • Hairdryer • Iron (On Request) • Telephone • Connecting rooms available (On Request) • Closed room • Voltage: 220/240

Breakfast
The Breakfast Plan includes à la carte or buffet (self-service) hot and/or cold dishes and is always served during set hours.
Accommodation only
Accommodation
Hot buffet breakfast
Hotel taxes and service charges (except local taxes payable on site)
Multi-city package

Is your heart torn between two destinations? With our holidays combining two, three or even four cities, there's no need to compromise! In addition to roundtrip flight and hotel, these packages also include transfers between cities, so you can explore different regions — from big cities to islands to the countryside to beaches.

Make the most of your European holiday by adding a few à la carte visits ($)! Book them before you leave and save yourself the hassle while you travel!


Roundtrip flight in Economy Class (package only)
Accommodation
Meal plans mentioned in the package
Cruise mentioned in the package
High speed/ferry transfer
Roundtrip transfers between airport and hotel (package only)
Hotel taxes and service charges (except local taxes payable on site)
This hotel is also offered with the following packages:

- Aegean Slendour
- Alpha (cruise not offered in this package)
- Minos Magic
- Beta (cruise not offered in this package)
- Gamma (cruise not offered in this package)
- Islands and Legends (cruise not offerted in this package)
- Kappa (cruise not offered in this package)
- Panoramic ( cruise not offered in this package)
Services
Laundry services

Not accessible for people with restricted mobility
Kids
Minimum age to check in without an adult : 12 years old
"Acropolis Secret" Roof Garden Bar Restaurant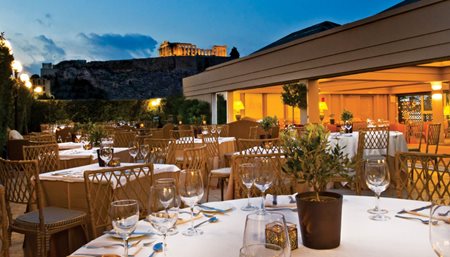 Dinner : À la Carte Dinner ($)
Reservation required
Evening dress code: Casual
Aspasia Restaurant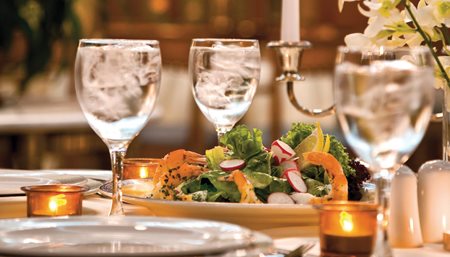 Breakfast : Buffet Restaurant
Lunch : À la Carte Lunch ($)
Dinner : À la Carte Dinner ($)
Air conditioning
Evening dress code: Casual
High chairs available
Smoking area
Divani Palace Acropolis 19-25 Parthenonos, Athens 117-42, Greece
34 km From Athens International Airport Eleftherios Venizelos
Important information
Visit the Government of Canada's travel website for advice and advisories and information regarding safety and security, entry and exit requirements, health and vaccination, climate and government assistance.
1019866
Terms, conditions and restrictions apply; pricing, availability, and other details subject to change and/ or apply to US or Canadian residents. Please confirm details and booking information with your travel advisor.