Barcelo Maya Colonial Riviera Maya, Mexico
About Maya Riviera, Mexico
Book your dream vacation package to Barcelo Maya Colonial 4.5 star all inclusive Riviera Maya, Mexico. Call JustTravelDeals or book online for the best vacations, hotels and flight deals.
Barcelo Maya Colonial Riviera Maya, Mexico
The Barcelo Maya Colonial Hotel in Riviera Maya is an elegant and superior hotel located beachfront and adjacent to the Barceló Maya Beach. Approximately 25 km from Playa del Carmen and 75 km from the Cancun airport.
Area: Xpu-Ha
Beachfront
Close to a park/nature reserve
Close to an attraction/town/historical site
2 buildings of 3 floors
Elevator
Kid's Club
7 pools
4 restaurants
3 bars
WiFi ($): lobby
Spa ($)
Fitness center
In-room safe
Weddings
Beach
Included in all the rooms
Full bathroom • Shower : Regular • Bath type : Regular • Individual air-conditioning • Hairdryer • Iron • Ceiling fan • Coffee/tea-maker • Clock radio • Telephone • Crib (On Request) • Connecting rooms available (On Request) • Non-smoking • Voltage: 110/120 • Turn-down service
À la carte dinners 4 times per week (reservations required)
Daily activities program
Daily sports
Disco (admission and drinks included)
Domestic drinks (unlimited)
Evening entertainment
Introduction to scuba diving in pool once per stay
Live music
Non-motorized water sports (select)
Selected international drinks
Snacks
Buffet breakfast, lunch and dinner
Service of a representative at destination
7 accessible pool(s) at the property
15 accessible bar(s) at the property
16 accessible restaurant(s) at the property
Notes
Access to Barcelo Maya Beach, Maya Caribe & Maya Tropical – Stay at 1, Play at 4 (except Barceló Maya Palace)
Premium Level
Enjoy these special perks by selecting a room category showing the inclusions of this collection.
Exclusive check-in and check-out desk
Exclusive Premium Level Lounge with international drinks, canapés, continental breakfast, board games, books, newspaper and free internent (7 am to 11 pm)
Turn-down service
Premium brand drinks in all hotel bars and restaurants (excluding Barcelo Maya Palace)
WiFi in designated areas (2 access code per room)
Local phone calls included
Priority reservations at à la carte restaurants (unlimited. subject to availability)
VIP room amenities
Mini-bar restocked daily (water, soft drinks, beer and light snacks)
Beach towels in room upon arrival
Exclusive concierge service for Premium Level guests
Access to the hydrotherapy circuit (once a day/stay)
Welcome gift upon arrival
Room service
Prestige Class
Enjoy these special perks by selecting a room category showing the inclusions Prestige Class.
À la carte dinners (1 extra à la carte dinner/week for a total of 5, reservations required)
Mini-bar restocked daily (water, soft drinks and beer)
Concierge service
Spa discount of 15%
Safety deposit box
Fresh fruit plate in room upon arrival
Turn-down service
Bathrobes and slippers in room upon arrival
Beach towels in room upon arrival
VIP room amenities, soap and lotions
Bottle of tequila in room upon arrival
WiFi (free in Maya Mall daily 10 am-1 pm)
Distinction Collection
With our Distinction Collection, you'll unlock new levels of indulgence. See the benefits of our Distinction Collection at this hotel. Enjoy these special perks by selecting a room category showing the inclusions of this collection.
Direct transfer between the airport and hotel (package only)
À la carte dinners (additional guaranteed reservations)
Welcome cocktail upon arrival
Mini-bar restocked daily
Selected international drinks (unlimited)
Safety deposit box (free)
Cool Towel upon arrival (where available)
Bathrobes and slippers in room (where available)
Beach towels in room (where available)
WiFi (free where available, some restrictions may apply)
Bottle of wine or local speciality in the room upon arrival (where available)
Concierge service
Turn-down service (where available)
Discount on golf or on spa (some inclusions may vary by resort; see hotel descriptions for details)
Notes
Arcade
Bowling ($) : Price per game for 2 person, including equipment : $30 USD (minimum age : 6 years old)
Surf Lesson at Flow Rider ($) : Price per person per class (1 hour) : $15 USD (minimum age : 13 years old)
Pirate's Island Water Park ($) : Price per person per day : $20 USD (no fees apply for children under 5 years old at the Pirate's Island Water Park)
Ideal for
What to expect
Room
Quality / Price
Front desk / Reception
Beaches
Location
Bathroom
Staff / Crew
Cleanliness
Business Services
Food / Restaurants
"

First, and definitely not last, time!

"
We've stayed at many resorts throughout the Mayan, and decided to try a new one after 3 stays at our previous resort. We were given the wrong room configuration (no fault of Barcelo), and it was fixed immediately. The resort is amazing! Being in the Colonial section, we were really central to it all, but even if you are in the Beach section, it's not a far walk (less than 10 minutes between the two) The food is flavourful with lots of options, staff are so friendly, and there are lots of chairs around the pool and at the beach. The resort was full (or close to it) when we were there but it never felt crowded. The one disappointment was the Premium Level, which we upgraded to. It didn't feel like good value for the money in terms of the room, which felt like a standard room. Our toilet didn't flush properly and the hair dryer broke (they fixed it the same day.) Our mini-fridge wasn't stocked when we arrived, and they didn't re-stock it with beer daily. However, these were small disappointments - we fell in love with the resort and were sad to leave. We will definitely be back, and soon!
The strong points
Staff! Antonia made our stay memorable with her smile around the pool every morning. Food was great (buffet and a la carte), lots of options.
The weak points
People still throw a towel across chairs to reserve them, I wish they wouldn't allow this. Premium level perks were nice, but could be better. Mini-fridge wasn't re-stocked with beer daily.
"

Excellent Stay!

"
Our stay was incredible. Each staff member we encountered was wonderful! Everyone did all they could to ensure we had a great time. The facilities were all clean. The beach and pools are all great. The a la carte resaurants were wonderful. We had a great time and appreciate all the effort that your hard working staff put into their jobs every day. From the landscapers to the chefs, and customer service reps, everyone deserves a very hearty thank you from us.
The strong points
Staff. They were amazing. Loved the sea turtles at the beach. Hotel room was big and comfortable. A la carte restaurants were very good. Lobby staff was also very helpful. Great job by all.
The weak points
Room did have a musty odour but it did not change my positive outlook overall. We brought some anti humidity things with us that helped a little. Also the snack grill was a little weak in selection. Very minor compared to all the great points.
"

Barcelo maya colonial

"
I traveled with my wife and 3 boys (7,9.10) to this resort. We loved it here, the pools were great and warm! Lots of space. The kids water park was a hit with the boys. The beach was amazing lots if beach chairs, and always a spot to sit, no need to reserve a chair in the morning. Drinks were delicious! Food was good lots of variety at the buffet as well
The strong points
Great location Awesome beach Big pools Delicious drinks
The weak points
Not having wifi throughout the hotel and only certain hours Having to pay extra for the bowling, arcade games at the sports bar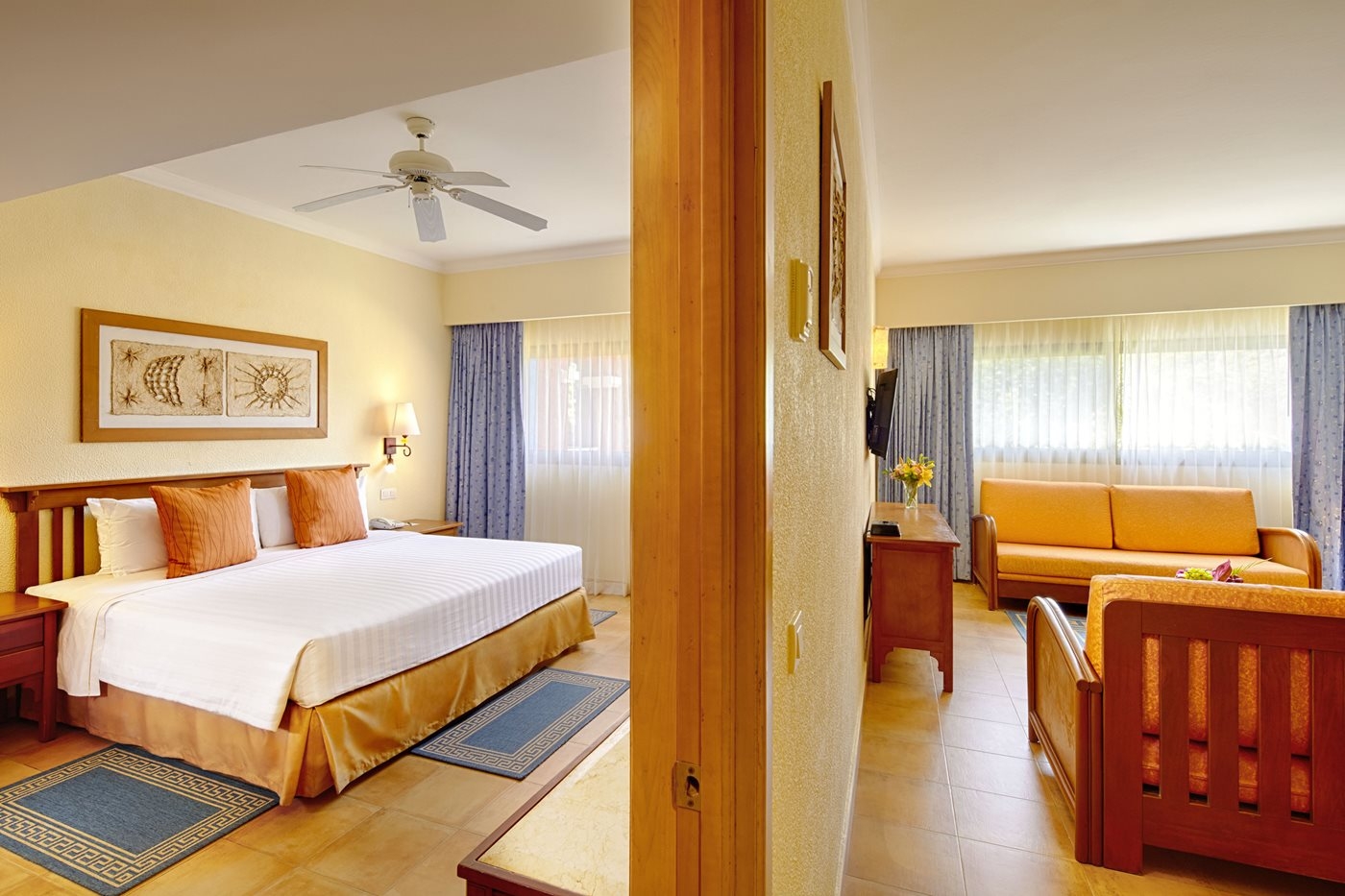 Visit the Government of Canada travel website for advice and advisories and information regarding safety and security, entry and exit requirements, health and vaccination, climate and government assistance.

******* Click to view Best Luxury Hotels in Riviera Maya *******

1032693
Terms, conditions and restrictions apply; pricing, availability, and other details subject to change and/ or apply to US or Canadian residents. Please confirm details and booking information with your travel advisor.