An MSC cruise to Antilles is the ultimate holiday
An MSC cruise to Antilles is the ultimate holiday. Last minute MSC cruise to Antilles vacations.
Offer a piece of heaven on Earth
Imagine how you would warm to the idea of a holiday in Antilles this winter. Swimming in tropical turquoise-blue seas and exploring spectacular rain forests.
Help you turn that idea into reality and book them on an MSC Seaside cruise from Pointe à Pitre or Fort de France. We offer two 7-night cruises visiting glorious islands like Martinique, Guadeloupe, Barbados, Grenada and Saint Lucia or Antigua and Barbuda, Saint Kitts and Dominica. Or they can book them both for 14 nights in the Antilles on two different voyages.

The adventure doesn't stop between ports either, with superb local cuisine and spectacular onboard entertainment.

To make our cruise even more relaxing we even have a Fly & Cruise Option including flights, ship transfers and full assistance. Select dates still available for February to April.

Right now there's even more reason to book with our Cyber Monday promotion. Book and receive free drinks and wi-fi along with an onboard credit.

Book your tropical cruise you'll always remember
MSC SEASIDE

7 NIGHTS | 8 DAYS

December to April


From Fort de France on Saturdays
MSC SEASIDE

7 NIGHTS | 8 DAYS

December to April

From Pointe à Pitre on Sundays
There's always something great to do
SEALIFE OF GUADELOUPE
FROM POINTE-À-PITRE
Snorkel at the coral reef in the world biological reserve of UNESCO. Or enjoy the scenery of the enchanting sandy island, perfect for sunbathing.
SWIM WITH TURTLES
FROM BRIDGETOWN
Enjoy the crystal-clear Barbados sea with a turtle as a swimming companion.
A RAINFOREST EXPERIENCE
FROM ROSEAU
A river tube ride in a tropical paradise is the ultimate way to discover the delights of Dominica's fabulous flora and fauna.
AUTHENTIC MARTINIQUE
FROM FORT DE FRANCE
Invite you for an authentic taste of Martinique, travelling through the rainforest to one of the island's best rum distilleries. Or take you to the scenic Rue de la Fontaine Didier hiking trail.
HIGHLIGHTS OF ST. LUCIA
FROM CASTRIES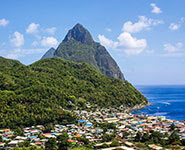 St Mark's colonial style house, Caribelle Batik where they make fine batiks, Fond Latisab Creole Park to learn Creole traditions.
A SPECTACULAR GRENADA
FROM SAINT-GEORGE
Discover Granada's unique palette of scents, spices and spectacular scenery on a tour that will take you to a historic cocoa plantation and a lovely waterfall.
Reservations Call JustTravelDeals @ 905-799-3000 or info@justtraveldeals.ca
1514838
Terms, conditions and restrictions apply; pricing, availability, and other details subject to change and/ or apply to US or Canadian residents. Please confirm details and booking information with your travel advisor.
You will visit the following 6 places:
St Kitts and Nevis
Saint Kitts and Nevis are a pair of tropical islands in the Caribbean and the smallest sovereign state in the Americas, in both area and population. The country is a Commonwealth realm, with the British Monarch (currently, Elizabeth II) as its head of state. Saint Kitts and Nevis were among the first islands in the Caribbean to be settled by Europeans. It was home to the first British and French colonies in the Caribbean, and thus has also been titled "The Mother Colony of the West Indies''. The natural aspect is what makes the country remarkable. Many tropical birds which one rarely finds elsewhere are present in great concentration in the nature and there are also the famous monkeys which, it is said, were introduced by the pirates
Martinique
Martinique is a Caribbean island that is an overseas department of France in the Caribbean Sea, north of St. Lucia and south of Dominica. In the South of the island, there are many lovely beaches with a lot of tourists. In the North, the rain forests and the black sand beaches are truly worth seeing. The interior of the island is mountainous. As part of France, Martinique is part of the European Union, and its currency is the euro. The official language is French, and virtually the entire population also speak Antillean Creole (Créole Martiniquais).
Barbados
Barbados is an island country in the Lesser Antilles. It is 21 miles in length and as much as 14 miles in width, amounting to 166 square miles. It is situated in the western area of the North Atlantic and 62 miles east of the Windward Islands and the Caribbean Sea therein, it is about 104 miles east of the islands of Saint Vincent and the Grenadines, and 250 miles north-east of Trinidad and Tobago. Barbadian traditions range from afternoon tea and cricket (the national sport) to pursuits such as scuba diving at Dottins Reef and golfing on designer oceanside courses.
Grenada
Grenada is an island country consisting of Grenada itself and six smaller islands at the southern end of the Grenadines in the southeastern Caribbean Sea. The islands are of volcanic origin with extremely rich soil. Grenada's interior is very mountainous with Mount St. Catherine being the highest at 840 m (2,760 ft). Several small rivers with beautiful waterfalls flow into the sea from these mountains. It is also known as "Island of Spice" because of the production of nutmeg and mace crops of which it is one of the world's largest exporters.
Princess Juliana International Airport
Antigua and Barbuda
Antigua and Barbuda is a twin-island nation lying between the Caribbean Sea and the Atlantic Ocean. It consists of two major inhabited islands, Antigua and Barbuda, and a number of smaller islands (including Great Bird, Green, Guinea, Long, Maiden and York Islands). The country is nicknamed "Land of 365 Beaches" due to the many beaches surrounding the land. Positioned where the Atlantic and Caribbean meet, it's known for reef-lined beaches, rain-forests and resorts.