Havana Cheap Hotels, Flights and Cruises
About Havana, Cuba
Book your Havana vacation package. All inclusive vacations, packages discount deals, last minute cheap vacations and flights.
Havana
Capital of Cuba
Havana, Cuba's colorful capital, is known for the Spanish colonial architecture of its 16th-century Old Havana core, including Castillo de la Real fort, now a maritime museum, and the pre-revolutionary Capitolio. 1950s American-made cars line the city's streets and rumba groups play in the painted alley Callejón de Hamel. Salsa emanates from clubs and cabaret is still performed at the famed Tropicana.
Area: 281.2 mi²
Getting there: 3 h 30 min flight, around $860. View flights
Weather: 82°F (28°C), Wind NE at 8 mph (13 km/h), 70% Humidity
Population: 2.105 million (2012) UNdata
Local time: Thursday 10:55 PM
Number of airports: 2
New! Casa Particular, An Insider's Taste of Cuba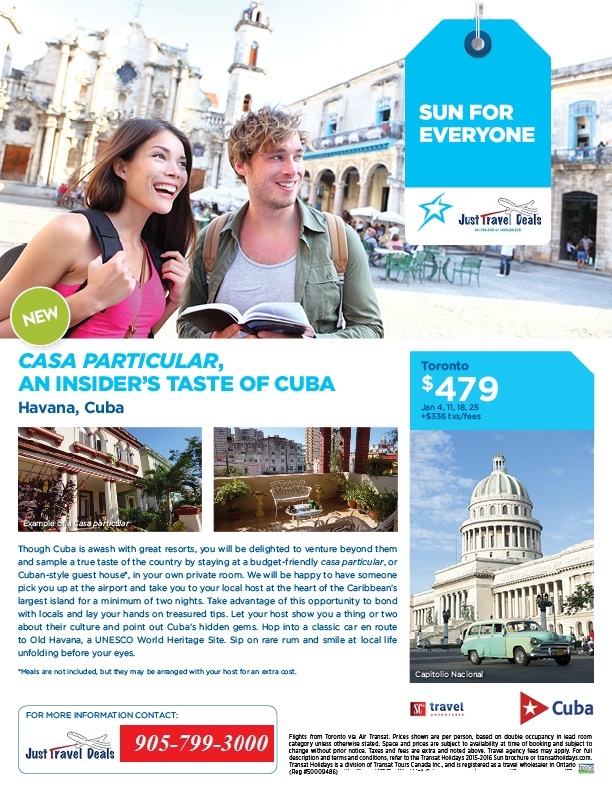 224460
Terms, conditions and restrictions apply; pricing, availability, and other details subject to change and/ or apply to US or Canadian residents. Please confirm details and booking information with your travel advisor.
You will visit the following 5 places:
Varadero
Varadero is a resort town in the province of Matanzas, Cuba, and one of the largest resort areas in the Caribbean. The place was first used as a dry dock and the salt mines of the peninsula (closed in 1961) supplied most of the Spanish Latin America Fleet since 1587. However, the foundation date of Varadero as city was only on December 5, 1887, when ten families from the city of Cárdenas obtained a permission to build their vacation homes between today's 42nd and 48th Street. Varadero is foremost a tourist resort town, boasting more than 20 km of white sandy beaches. The first tourists visited Varadero as early as the 1870s, and for years it was considered an elite resort. In 1910 the annual rowing regatta was started; five years later the first hotel, named Varadero and later Club Nautico, was built. Tourism grew in the early 1930s as Irénée du Pont, an American millionaire, built his estate on the peninsula. Many famous and infamous people stayed in Varadero, for example Al Capone.
Santa Clara
Santa Clara is the capital city of the Cuban province of Villa Clara. It is located in the most central region of the province and almost in the most central region of the country. Founded by 175 people on July 15, 1689, Santa Clara is a place to enjoy romantic sunsets, colonial history and fun times.
Coco Cayo
Cayo Coco is an island in the Jardines del Rey chain off the north coast of Ciego de Avila province in Cuba. Cayo Coco is very relaxing and is the perfect place to go to if you want to do close to nothing for your vacation. You will find a few resorts, a spa, an international clinic (hospital), a night club (the Bat Cave) and an airport. In other words, there is not much to do or to visit there but sometimes all you need for your vacation is a little calm and quiet, and you will find that in Cayo Coco.
Holguín
Holguín is a municipality and city, the capital of the Cuban Province of Holguín. It also includes a tourist area, offering beach resorts in the outskirts of the region. After Havana, Santiago de Cuba, and Camaguey, it is the fourth largest city in Cuba.
Cuba
Cuba, officially the Republic of Cuba, is a sovereign state comprising the islands of Cuba, Isla de la Juventud and several archipelagos in the Caribbean Sea. The capital and largest city Havana. Havana had a large number of shows, events, and casinos catering to tourists. Geographically, Cuba is considered part of North America and culturally, it is considered part of Latin America. The island became a U.S. protectorate in 1898, and in 1902 it gained substantial independence. Between 1902 and 1959, many U.S. citizens lived in Cuba or frequently travelled to Cuba. It is the largest island in the Caribbean, and the second-most populous after Hispaniola, with over 11 million inhabitants. It is a multiethnic country whose people,culture and customs derive from diverse origins, including the aboriginal Taíno and Ciboney peoples, the long period of Spanish colonialism, the introduction of African slaves, and a close relationship with the Soviet Union in the Cold War. Cuba is ranked high in human development by the United Nations, and performs well in health and education. In 2015, it became the first country to eradicate mother-to-child transmission of HIV and syphilis, a milestone hailed by the World Health Organization as "one of the greatest public health achievements possible".